Editor's note: The following article was published in the 2019 issue of World Biomass.
By Rebecca Long Pyper for Dome Technology
Dome Technology got its start building domes 40 years ago and now has nearly 700 projects in the portfolio, but the company name tells only part of the story.
Versatility is now Dome Technology's strongest suit as the team has expanded its expertise to include general contracting, construction management, silo rehabilitation, concrete repair and more. The company is driven by the pursuit of innovation and advancement.
"Our persistent approach to innovation in the industry continues to increase value and diversity in solutions, while providing a complete economical project for our customers," Dome Technology CEO Bradley Bateman said.
Years ago Dome Technology realized that to produce an optimal facility, the team needed more sophistication. That move "was customer driven, but it was also us recognizing that every time we went in to do a project, there were 10 to 15 experts in their individual fields, but no one was really an expert over everything," Dome Technology vice president of engineering Jason South said, adding that if there isn't someone who understand global functions working on a project, things can get unwieldy.
The company committed to expanding its knowledge and expertise by building a team of in-house engineers and developing long-term relationships with vendors of reclaim and monitoring systems. Working together closely and repeatedly, storage domes and their systems functioned more seamlessly.
Dome Technology now oversees complete projects, including dome structures, reclaim systems, conveyance and monitoring systems. When functioning as a one-stop shop, the resulting facility is seamless because each element is planned with the others in mind.
Although Dome Technology typically employs a design-build method for the entire project, customers can also seek support in specific portions and receive help and innovative options.
Excellence and safety are paramount
Delivering a first-class project is at the core of what Dome Technology does. Utilizing a systematic mobile-reporting process from the field to the office provides real-time updates and corporate oversight, ensuring a superb project every time.
From the CEO to the project managers, superintendents and skilled laborers, safety comes first. With current OSHA/MSHA training, Dome Technology provides a comprehensive company safety program and nurtures a strong culture of working safely every day.
General contracting and more
A straightforward project experience is one of the benefits of hiring Dome Technology as general contractor. Customization begins from day one with a design-build approach. The team provides geotechnical analysis to determine foundation options, and thanks to the company's dome models, economical methods are often workable — deep foundations aren't the only option here. In addition to the storage structure itself, Dome Technology can provide structural-steel fabrication, manufactured in its shop located on the corporate campus.
Dome Technology is also knowledgeable in stored-product considerations, optimal design for product integrity and subcontractor management.
Construction management
For companies wanting to work hand-in-hand with partners who know their industry, know the vendors and know a good price when they see it, Dome Technology provides all three. In its construction-management role, the team advocates for the customer by monitoring every step of the project to ensure quality on every single component.
This type of partnership is ideal for companies wanting to select their own subcontractors and manage the flow of money. The perk is that Dome Technology reviews contracts and pricing and offers recommendations based on experience in the industry, but the ultimate decisions lie with the customer.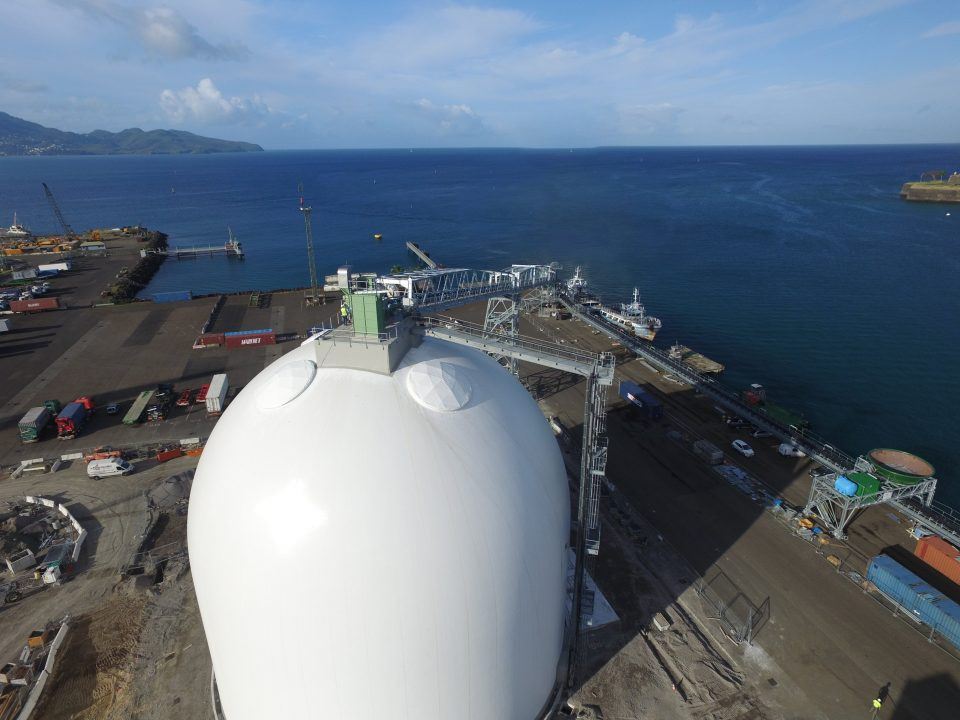 Working with what customers already have
Concrete rehab work falls squarely within Dome Technology's area of expertise. The team tackles projects ranging from spot repair to application of new structural concrete using the shotcrete method. For tanks or silos with failing concrete, compromised portions are removed and repaired. Then the entire surface can be recoated for a uniform look and better protection from the elements.
Another major way to maximize existing structures is to apply protective coatings and liners that keep out water and extend the life of roofing and other surfaces for a decade or more. This can be done in a couple ways:
• Single-spray coatings. After fixing any major problems in the existing structure, the team will refinish a roof with a 100-percent silicone elastomeric coating. Coatings are scrubbable, dirt and buildup resistant, waterproof and economical. They work well for flat and low-slope structures and add an additional 10 to 20 years to a roof's lifespan.
• Protective coatings. Fast-set polyurea is the product of choice as it cures quickly on vertical surfaces, yielding a smooth and uniform protective layer. Ideal for tank restoration, the coating is often added to the exterior to improve aesthetics too.
Flooring coating, deck coating, tunnel lining and food-safe coatings can also be provided.
Engineering
Engineering expertise is one of the defining characteristics of the company. Dome Technology's in-house engineers work through these phases for every project:
• Schematic design phase: This phase begins with a feasibility study to determine if the construction is technically possible and if the projected income will justify anticipated building costs. Front-end engineering design (FEED) is an essential part of this, during which the design-build team provides preliminary plans with an acceptable +/- estimate to help customers determine if a project's scope fits within budget. The Dome Technology team estimates costs by being as specific as possible in the early stages of engineering, yielding accurate estimates at the outset.
• Design development: After completing the civil design, material handling is addressed, which includes determining the best systems for conveyance, dome reclaim systems and rail and truck loading and load out. Barge and ship loaders and unloaders are also arranged through partnerships with other companies. Engineers provide structural, mechanical and electrical engineering and plan for necessary monitoring systems. Geotechnical analysis is conducted by a third party to ensure proper site conditions are present.
Even when the stored material is the same, every project is unique and receives individual attention. Dome Technology meets with customers to determine the details for a dome's proposed function. Need to fill and empty a dome once a year? Once a month? The team will conceive the optimal plan for a custom dome and material-handling systems within and around it.
To save on costs, engineers rely on years of experience to craft the ideal plan, and they try innovative ideas too. That might mean conveyor supports sharing a foundation with the dome, resulting in substantial construction savings. Or it might mean building a ramp that will work for today's dome but is also designed to function with an adjacent dome likely to be built years later. By seeing the potential, the team incorporates future growth into today's design.
After 40 years of dome building and industrial construction, Dome Technology understands the importance of collaborating with customers eager to pioneer better ways to store and handle product. These partnerships produce some of the most innovative bulk-storage facilities in the world.
"In every project, Dome Technology incorporates innovative technology to maximize storage capacity and system performance with an economical solution," Bateman said.