Dome Technology has built all the operational wood-pellet domes worldwide. Here, a description of those projects and how pellet storage has evolved
By Rebecca Long Pyper for Dome Technology
In 2011 Dome Technology completed construction on the first wood-pellet storage domes in the world. Since then the company has built every operational pellet dome, and facilities continue to advance in sophistication 10 years in. Here is a timeline of that work and a look at projects moving forward.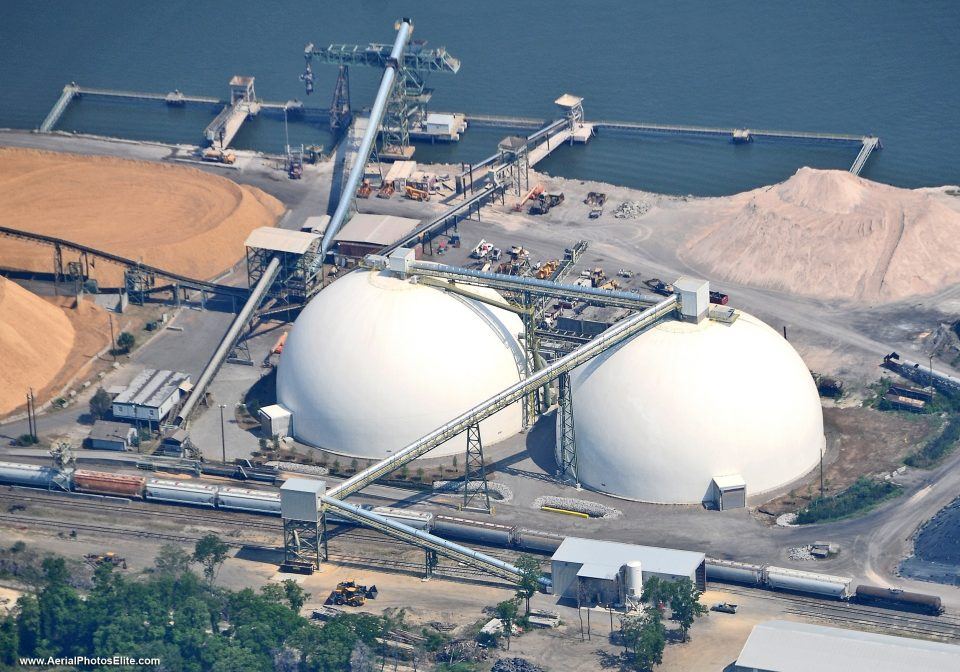 Peeples 2011
Domes really weren't on the radar for Peeples Industries in Savannah, Georgia, USA.
The company was seriously considering a 50,000-ton A-frame for storing wood pellets, but an A-frame would require deep foundations that raised financial concern—and there were rumblings that a better option might be on the market.
So Peeples Industries owner Frank Peeples Jr. made contact with Dome Technology, "and they did a lot of things for us. They cheapened our price up because we didn't have to put in a deep-pile foundation"—a system that for the A-frame would have carried the same cost as one entire dome, Peeples Industries project manager Brad Orwig said.
Enviva 2011-2014
In 2011 and 2012 two domes were completed for biomass manufacturer Enviva at the Port of Chesapeake in Virginia, USA (seen above).
The domes feature systems that continuously monitor and control interior temperature. Through close collaboration with Enviva, Dome Technology's team completed construction ahead of projected completion, even though the project started a month later than planned.
"Enviva is the biggest wood-pellet producer in the world. It's just a joy to work with such a large, progressive company," said Dome Technology sales manager Lane Roberts.
In 2014 the team was contracted to build two additional, almost identical domes at Port of Wilmington, North Carolina, USA. These domes can withstand winds up to 300 mph.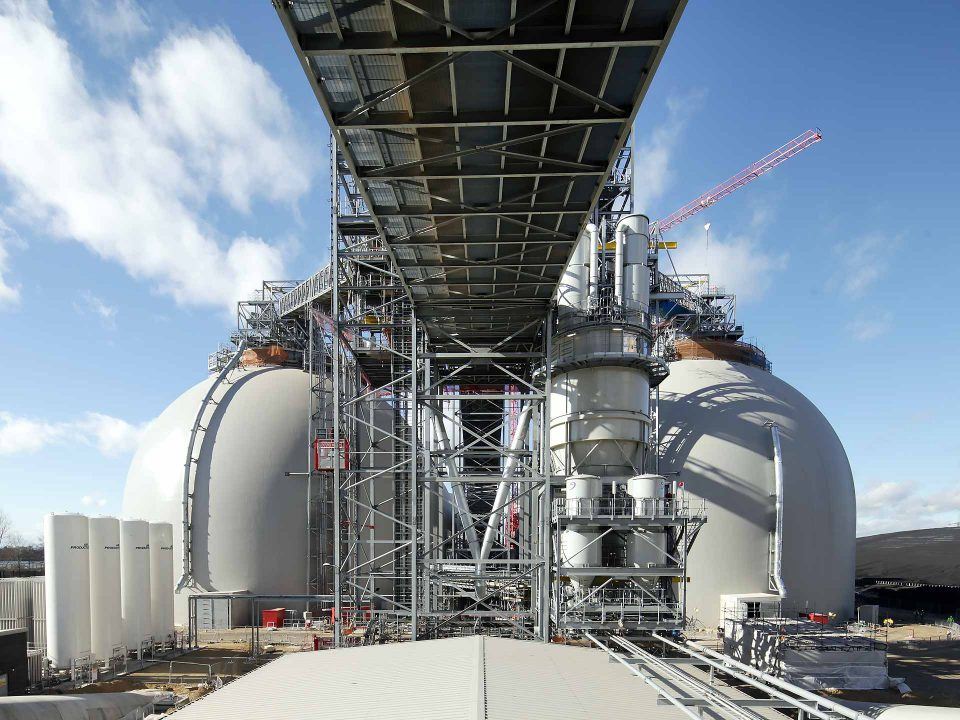 Drax UK 2012
There's big, and then there's staggering.
Drax chose the latter in a project that was a first of its kind for the United Kingdom, Europe's single largest decarbonization project, and Dome Technology's largest project to date.
The size and scale of the project required unprecedented biomass storage: four domes each holding 80,000 metric tons of biomass. Dome Technology's team was responsible for the overall design of the dome system, including reclaim tunnels, floor slabs, dome foundation, DomeSilos and waterproofing.
QSL 2013
From the beginning of its portside project in Quebec City, Quebec, Canada, the challenge for maritime terminal operator and stevedore QSL was selecting a wood-pellet storage solution that checked the boxes as both a smart financial investment and a good steward of the community.
First, the company required 75,000 metric tons of total storage. Steel silos were an option, but a pack of six to eight would be needed to store that tonnage. Since the site is located near a historic district with a park and residential area, something more aesthetically pleasing was in order, and a DomeSilo fit the bill.
"We needed something nicer than a series of silos, so that was the main concern. Then also because of the size of storage, we needed something solid that would last a long, long time," QSL director of engineering Eric Lapointe said.
Drax Port Allen 2014
The United Kingdom project helped secure another Drax project in 2014, where Dome Technology built two wood-pellet domes for the company's Port Allen Facility in Baton Rouge, Louisiana, USA. The total storage volume is 80,000 metric tons.
"The overall facility has less material handling equipment due to the domes. The domes also require less maintenance and fewer equipment issues, which allow the ships to be loaded on time. All these factors combined reduce the operational costs as well," said senior project manager Daniel Pittman, who works for Gray Construction, the EPC Drax selected for the facility's development.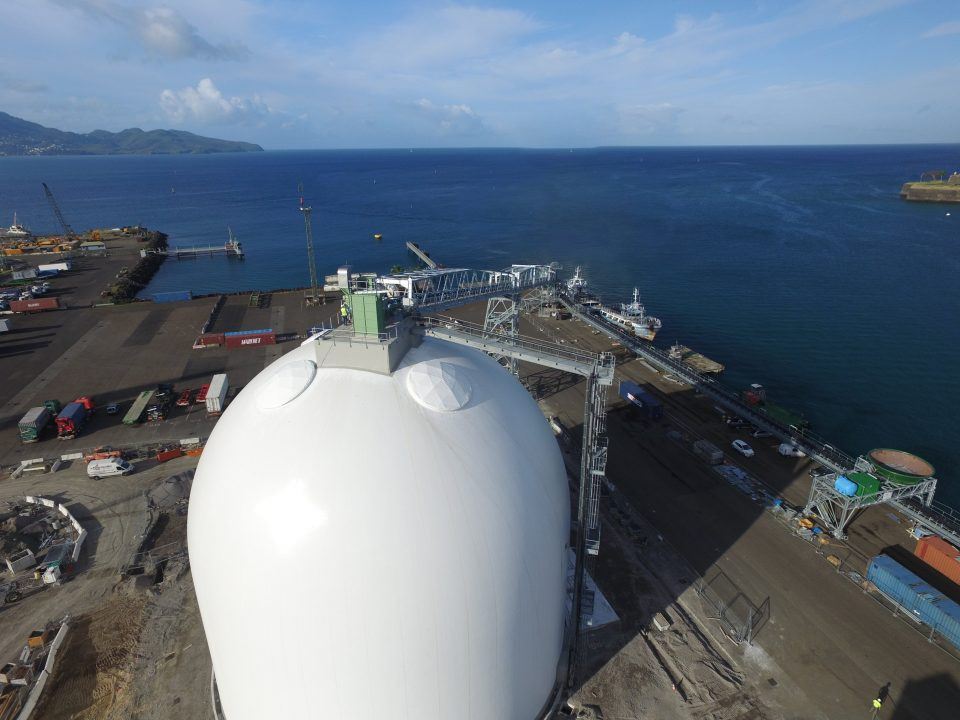 Albioma 2016
In Fort-de-France, Martinique, Dome Technology built a storage dome for independent energy producer Albioma in building the island's first 100 percent biomass power plant.
The single dome stands 108 feet (33m) tall and 115 feet (35m) in diameter, with the ability to store as much as 19,900 metric tonnes of biomass wood pellets. Dome Technology oversaw work for the deep-pile foundations, pile cap, dome shell and one above-grade tunnel. The dome achieves approximately 70 percent reclaim by gravity alone and has access for a front-end loader to reclaim the remaining 30 percent.
2020 Barrette-Chapais
Wood-pellet producer Barrette-Chapais first contacted Dome Technology about a ship-loader project for a new transload facility in Quebec, Canada, but when portside availability changed, so did their plans.
Flat storage was Plan A for the Port of Saguenay site, but after weighing a reduction in available space against storage requirements, the decision was made to shift to a dome, said Granule 777 general manager Yann Sellin.
Dome Technology was contracted to build two DomeSilos, measuring 120 feet (36.5 m) in diameter and 131 feet (39.9 m) tall and each capable of storing 21,000 metric tons. Because of their geometry, DomeSilos are able to store more product in a smaller footprint, stacking pellets deeper and storing them all the way to the structure's apex.
Current work
At present Dome Technology is building pellet domes for three companies. In an era when innovation and customization aren't extras, they're expected, more bulk-storage companies seek a structure that will last, that fits within the budget and that will maintain product integrity. Dome Technology delivers an innovative, turnkey solution.
"Customers have, in the past, used different systems to store wood pellets until they found the dome. As a result, the dome has become the standard for storing pellets, and everyone knows it," said Dome Technology CEO Bradley Bateman. "We've been able to create solutions when others could not."
Editor's note: This article ran in the 2020 edition of World Biomass.