As the cement industry has become more sophisticated, companies providing storage have had to follow suit if they're going to keep up.
Enter the dome—or more specifically, a DomeSilo—a model that competes very well with other storage options. This customizable structure is often taller than it is wide, allows companies to stack product deeper on a smaller footprint and delivers storage and reclaim requirements demanded by savvy cement companies today. Five key benefits, discussed below, are converting more cement customers to dome storage every year.
Product protection
Cement and cement-industry products are completely protected when stored within a dome. Domes boast absolute waterproofing and zero dust emissions. Thermal insulation means no condensation either.
Sealed and seamless, a dome keeps product inside and prevents interaction with the environment. This envelope is multi-layered; a dome is built using the shotcrete method, so concrete is sprayed in place without any construction joints. On the exterior, a high-strength PVC membrane covers the entire structure. Between the membrane and the concrete, urethane foam protects the life of the structure as well as the stored product.
The PVC membrane ensures complete waterproof protection for the reinforced concrete shell and, consequently, the material stored within. A mold-resistant UV-protective resin coats both sides of the membrane, providing long-term protection from these two common sources of degradation. No other silo or bulk-storage system offers this type of waterproof protection, and this exterior requires almost zero superficial maintenance.
An increasing number of cement producers are contracting with Dome Technology to build domes with this level of product protection. A dome "is proven to be an economical and reliable solution for long-term storage," said Dome Technology CEO Bradley Bateman.
High capacity
Companies opting for a DomeSilo can store more product on a smaller piece of land than within a silo of comparable dimensions. A dome can be filled to the top because product can be stored into the roof of the dome. Silos can't say the same.
Recently, Lehigh Cement Company contracted with Dome Technology to build a clinker-storage dome in Mitchell, Indiana, USA, one that will increase operational capacity and take the company into the next decade of business.
This dome for Lehigh Cement, a subsidiary of Lehigh Hanson, dwarfs most other bulk storage, standing 220 feet in diameter and 160 feet tall. Its storage capacity maxes out at 169,000 metric tons, and three on-grade reclaim tunnels achieve 83 percent live reclaim.
"It's a colossal project. It's one of our bigger domes as far as storage capacity," said Dome Technology sales manager Lane Roberts.
The project was centered around the second largest kiln in the Americas—an accurate representation of Lehigh's "strong growth in the United States and our continued commitment to our customers to meet the growing demand for a consistent, high-quality cement whilst improving our manufacturing efficiencies and reducing emissions," said Lehigh Cement deputy project director and civil manager Kevin Cove.
Dome Technology's scope of work included dome construction, deep foundations, ring beam, tunnels and at-grade entry for front-end loader.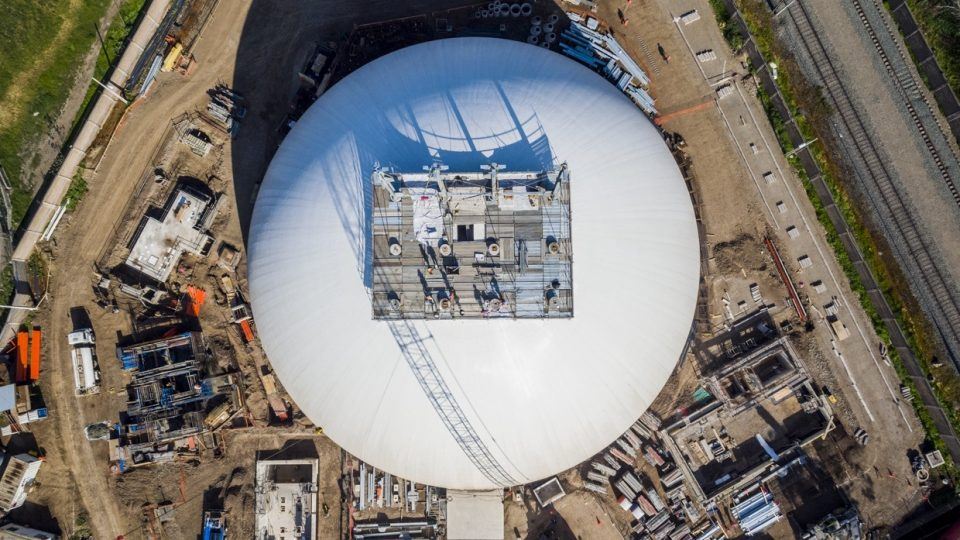 Strength
A DomeSilo is built to last indefinitely. Its construction is natural-disaster resistant, and its round geometry yields higher tolerance for settling or withstanding impact. DomeSilos can store more than silos of similar dimensions. Increased capacity is made possible by geometry: The double curvature of a dome lends itself to the ability to build up, rather than out, and the curve provides strength at all points of the structure, even at the apex. The entire interior can be used to contain product.
A DomeSilo's concrete shell and geometry boast unrivaled strength. Dome construction methods require no interior roof trusses or beams, so the entire inside volume of the dome can be utilized for storage or reclaim systems.
Customization
Every dome is engineered and built to customer specifications, and Dome Technology's team is adept at adjusting plans and maximizing capabilities to provide cement storage that meets and exceeds expectations.
Customization isn't simply superficial with a dome either. When a dome is designed with operations in mind, expenses drop. Companies can rely on domes as a key component to running facilities for less and choosing ideal reclaim systems. Cement is reclaimed from the dome using fluidized floor systems.
Asking the right questions is essential to securing the ideal handling system. That's why Dome Technology's design-build team utilizes scope questionnaires addressing everything from mechanical systems and property issues to reclaim. These questionnaires are part of front-end engineering that helps identify a handling system that will deliver more bang for the buck now and in the long run. These factors guide early conversations:
Capacity requirements: How much product needs to be stored and transported annually?
Geographical and geological position: Define the site requirements and determine the site-specific geotechnical information.
Expansion: Is this a project extending a facility's original scope? Is future growth likely?
Product consideration: A turnkey builder like Dome Technology can provide counsel on designing unique storage for each specific stored product.
Operations: What are the company's plans for filling, reclaim, product management and controlling inventories? If these aren't known or defined, help is available.
Two major advantages with design-build are that change orders are reduced and schedules are usually met because each phase of the project is built into the plan. These often yield cost savings and a smoother construction experience.
A turnkey solution
Dome Technology can deliver the complete package. The team invented the dome-construction process and can provide the design and installation of the mechanical systems required for bulk storage, from equipment on the inbound side to reclaim systems and throughput rates.
If Dome Technology's current project list is any indication, there's no slowdown in sight for the cement industry. The team is working on several cement and cement-product projects this year and in conversations for multiple future contracts. With sophistication on the increase, customers can secure the facility they want, and the process is made easier by selecting a construction company that can oversee the project from start to finish.
By Rebecca Long Pyper for Dome Technology
Editor's note: This is an excerpt of an article that ran in the April 2023 issue of World Cement.